Henry Davis Lacy
My Half Great Granduncle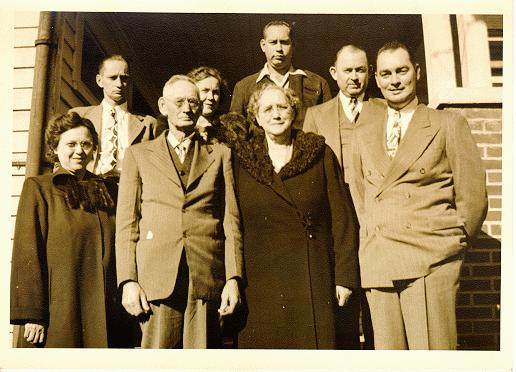 At the 1996 "Lacy Family Reunion" my half first cousin once removed, William "Marion" Lacey lent me his genealogy files which included a photo album. This album was put together by my half first cousin twice removed Ruby Lacey Butler. It had some of her Lacy/Lacey genealogy notes and some photos. It included this picture which was taken sometime during the 40's. It is of my half great granduncle, Henry Davis Lacy his wife and some of his children including Ruby. Henry is the half brother of my great grandfather, John Marion Lacy.
The first row has Thelma Leona Lacey, Henry Davis Lacey, his second wife Rosa Pearl Edwards, Edward Davis Lacey. The back row has James Alfred Lacey, Ruby Cleo Lacey, Noel Eugene Lacey "Gene", and George "Gober" Lacey.
Edward, James, and Gene are Henry and Rosa's children. Ruby, Gober, and Thema are Henry and Lula May Perry's children.